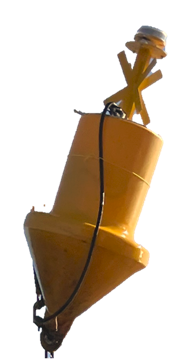 Off-shore monitoring of environmental parameters is often very expensive and difficult. This is why we have developed an off-shore version of our multi logger. This multi logger makes it relatively simple for us to configure the buoy to your specific project needs with different sensors.
The data is passed to our DMR Cloud via narrow band or other IOT platforms. For more information about EnviroBuoy you can download this brochure.
As a standard the buoy is equipped with radar a reflector and flashing light (during night). The battery for the light is charged via an independent solar panel. For safe and legal offshore installation, DMR can also assist in the registration of the installed buoy at the Danish Maritime Authority.
EnviroBuoy is designed for a safe and professional installation procedure. This ensures that it can be deployed safely with a ship equipped with a crane. DMR can also assist in the design of the installation procedure for a specific ship, and participate in all parts of deployment, maintenance and recovery depending on the specific needs of the customer.

Please contact our experts listed below for further information. In our webshop you can find a rental price of the buoys equipped with either oxygen or turbidity sensors.